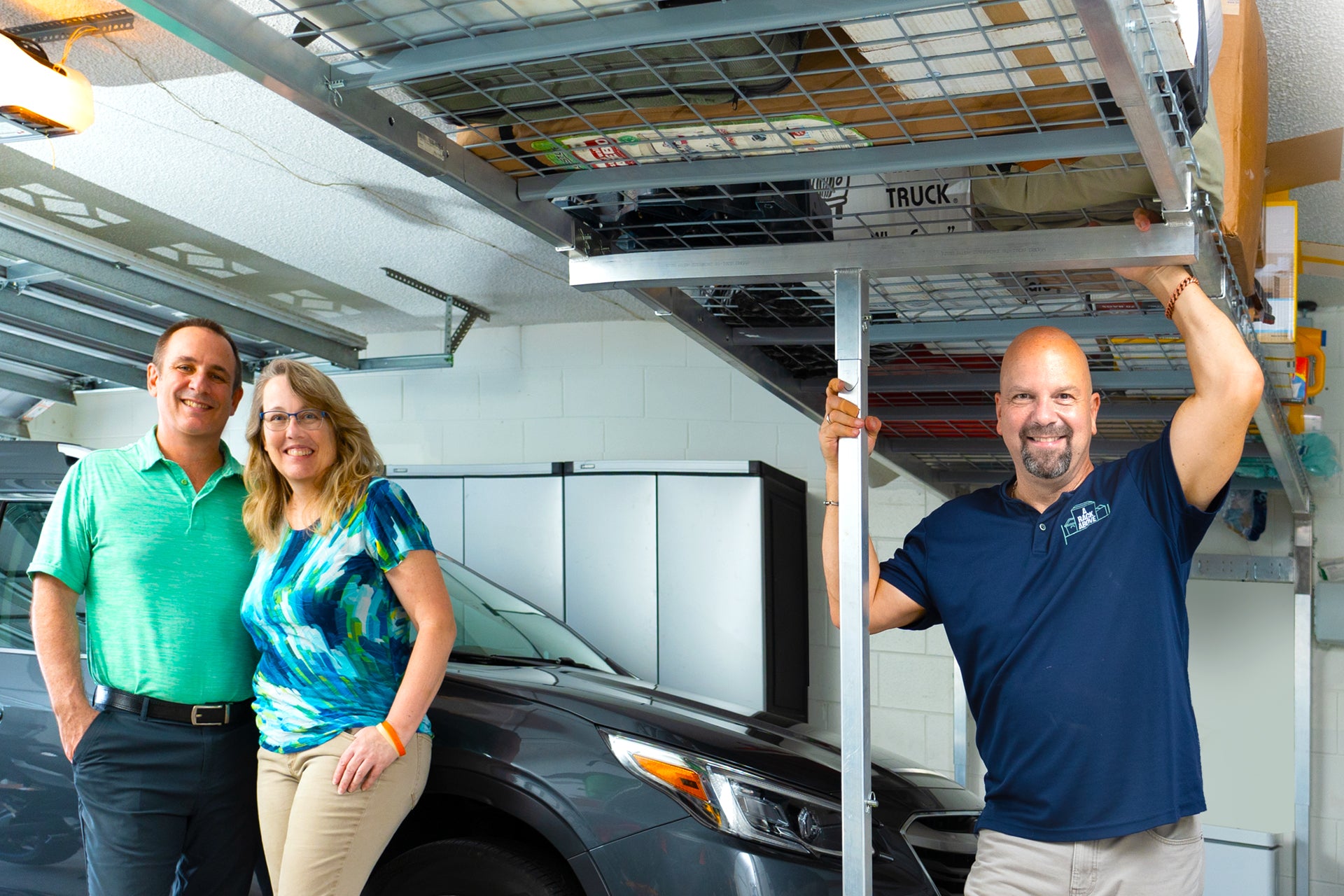 Creating innovative storage solutions while providing unparalleled convenience, and safety for homeowners.
Faced with significant "changes in circumstances," Steve Schindehette and his wife Becky moved from a spacious house to a garage-less condominium. The two of them were immediately confronted with the problem of space constraints. Downsizing forced them to rent an expensive storage unit across town.

Once the storage unit was secured, transporting items to and from the condo was not only time consuming and cumbersome, but frustrating.  Inside the storage unit, the difficulty in finding items was an additional constant annoyance.

In his quest for organization, Steve bought shelves and cabinets. However, he quickly realized these solutions occupied significant floor space, hindered maneuverability within the storage unit, and provided limited practical storage. Managing the resulting "clutter" became a daily challenge. With limited storage options, Steve grew concerned about the safety and care of his possessions.

In pursuit of finding a solution to his frustrations, Steve glanced upward and pondered, "How can I utilize this overhead space?" However, even if he came up with an idea there was a huge constraint: renters are prohibited from drilling or attaching anything to the walls or ceiling of a storage unit. With thoughtful consideration and whimsical execution, he conceived a creative solution that not only resolved his storage challenges but did it without the need to drill a single hole!

With his innovative product, ARackAbove, Steve not only tackled the storage unit restrictions, but also managed to add over 40 square feet of extra overhead storage space to his 10' X 10' storage unit.

Steve's invention, has revolutionized overhead garage storage. ARackAbove offers a practical and elegant solution that is changing the way people organize their belongings and reclaim living spaces. Remarkably, ARackAbove stands alone as the world's only portable overhead garage storage rack. Steve's story is a testament to the power of determination and ingenuity in the face of life's challenges.
A REVOLUTION IN SPACE SAVING INGENUITY
Steve knows that anyone seeking a storage solution will find ARackAbove "above the competition" and will experience the same happiness and satisfaction he feels every time he opens the door to his garage.